November 15, 2021
Three months ago, Dr. William Moss and I explained the need for states to prepare their dashboards and data collection methods to report breakthrough cases and booster doses. Now that safe, effective COVID-19 vaccines have been available to the public for almost a year, children older than 5 years can get vaccinated1, and almost 60% of the U.S. population has been vaccinated, what is reported on breakthrough cases and booster shots?
Thankfully, the CDC has begun to release data on breakthrough cases and deaths by vaccination status. And many states are now reporting data on booster shots, some even coupled with demographic information.
CDC Reports Breakthrough Cases and Deaths
Vaccination status is a critical variable when recording data on new cases, hospitalizations, and deaths from COVID-19 because those data allow us to track vaccine effectiveness. Additionally, updated information on the reduction in risk of infection, severe disease, and death provided by vaccination can help increase vaccination rates and inform new outreach strategies to communities that still need the right message and messenger to encourage vaccination.

The CDC now provides COVID-19 case and death incidence rates disaggregated by vaccination status (shown below), vaccine manufacturer, and age. For now, the data are available only at the aggregate U.S. level, not at the state or county level. This resource has become available because 16 jurisdictions report vaccination status for cases and deaths: Alabama, Arizona, Arkansas, Colorado, Florida, Georgia, Idaho, Louisiana, Massachusetts, Michigan, Nebraska, New Mexico, New York City, Seattle/King County, Utah, and Wisconsin. These health departments should be lauded for collecting and sharing these data with the CDC, as more complete data on cases and deaths by vaccination status benefit the nation.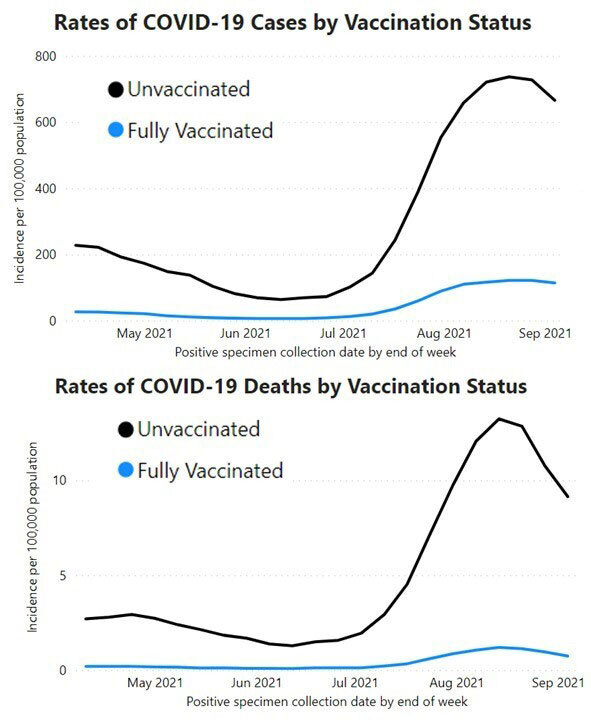 Public health departments must send de-identified data to the CDC, where its National Notifiable Diseases Surveillance System (NNDSS) team processes the information before supplying it to the correct CDC program.2 Unlike hospitalization data, whose reporting is mandated and standardized by funding mechanisms from the Centers for Medicare & Medicaid Services,3 reporting of case and death data to the CDC remains voluntary. Unfortunately, metadata, including vaccination status, is not required from state and local health departments. However, these data are highly informative and will be useful to supporting continued vaccination efforts by showing real-world vaccine effectiveness.
There are also states that collect these data but are not represented in the CDC dataset,4 which may indicate that some states are not taking the extra step to share their data with the federal agency. Additionally, these data have a long lag time, with the CDC only providing data updated through September 4, 2021. This could be due to an analytical backlog at the CDC or delays in state reporting. Regardless, resources should be offered to facilitate data aggregation and to provide the public with better breakthrough data. All states have benefitted from public CDC data and should make efforts to increase their data collection and sharing with the CDC to support improved analysis.
Agree or Disagree - Booster Data Definitions
Booster dose data have been a source of confusion since first administered, as it forces data scientists and public health officials to reconsider what it means to be "fully vaccinated." There are also questions concerning the definition of a "booster dose" versus a "third dose." Basically, the stage had been set for the states to once again adopt a patchwork of definitions and data collection strategies that would only serve to obfuscate information and complicate interstate comparisons.
However, for the first time in this pandemic, all states have agreed to use the same definition, agreeing on "fully vaccinated." This level of consensus has been unprecedented, and we hope it is a sign that states are finally acting on federal guidance and looking to their peers to establish norms. Thirty states and territories have begun collecting and publicly reporting booster shot data. There are still discrepancies in how states report these data such as variations in the definitions for booster and additional doses. Ohio's definition differs from CDC's, while other states maintain separate definitions for boosters and additional doses. Some jurisdictions, like Washington, D.C., do not even make their definitions publicly available.
Better understanding of vaccination data including booster doses is critical to ongoing vaccination efforts. We are now reaching a point where weekly booster doses being administered are far outpacing first-time vaccinations even though over 40% of the population still needs a vaccine as of November 8th. Data from Indiana,5 Missouri,6 and Pennsylvania's7 state COVID-19 dashboards (shown below in order) indicate that over the last week of October, the number of booster doses administered is consistently 2-4 times higher than the number of first and second vaccine doses administered, even though everyone can get a first-round vaccine but only some are eligible for boosters.8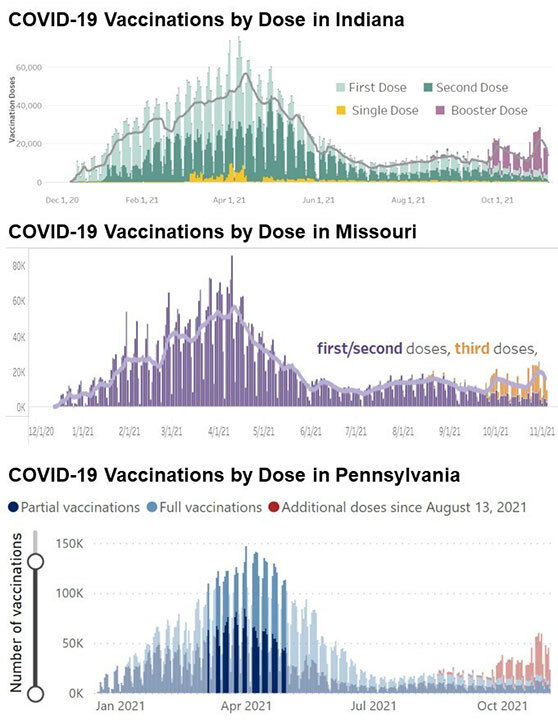 Thankfully, many states are separating out booster data. Without the disaggregation of vaccine data it is more difficult to track vaccination coverage of the United States as booster doses could be misrepresented as first- or second doses. Additionally, demographic data associated with booster doses, such as that provided by South Carolina,9 will be essential for targeted booster distribution when the time comes. Existing state booster data streams need to be aligned definitions or at least make their definitions public to better understand the progression of booster shot administration.
The country is in a far better position regarding complex vaccination data on breakthroughs and boosters than we would have anticipated, but states need to collect and share a lot more data.
---
References
1. M. Fox, 5- to 11-year-olds can now get a Covid-19 vaccine in the US, 02 November 2021. https://www.cnn.com/2021/11/02/health/covid-19-vaccine-children-acip/index.html. (Accessed 05 November 2021 2021).
2. Centers for Disease Control and Prevention Division of Health Informatics and Surveillance, How We Conduct Case Surveillance, 29 September 2021. https://www.cdc.gov/nndss/about/conduct.html. (Accessed 05 November 2021).
3. CMS releases guidance on COVID-19 data reporting as a condition of hospitals' Medicare participation, American Hospital Association, 6 October 2020.
4. Mississippi State Department of Health COVID-19 Vaccination Reporting, Mississippi State Department of Health, 19 August 2021.
5. Indiana Department of Health, Indiana COVID-19 Vaccination Dashboard, 04 November 2021. https://www.coronavirus.in.gov/vaccine/2680.htm. (Accessed 05 November 2021).
6. Missouri Department of Health & Senior Services, COVID-19 Vaccinations in Missouri, 05 November 2021. https://health.mo.gov/living/healthcondiseases/communicable/novel-coronavirus/data/public-health/vaccine.php. (Accessed 05 November 2021).
7. Pennsylvania Department of Health, COVID-19 Vaccine Dashboard, 05 November 2021. https://www.health.pa.gov/topics/disease/coronavirus/Pages/Cases.aspx. (Accessed 05 November 2021).
8. Centers for Disease Control and Prevention, COVID-19 Vaccine Booster Shots, 27 October 2021. https://www.cdc.gov/coronavirus/2019-ncov/vaccines/booster-shot.html. (Accessed 05 November 2021).
9. South Carolina Department of Health and Environmental Control, COVID-19 Vaccination Dashboard, 03 November 2021. https://scdhec.gov/covid19/covid-19-data/covid-19-vaccination-dashboard. (Accessed 05 November 2021).
Images taken from Centers for Disease Control and Prevention unless otherwise noted.